Yoga Therapy for a More Nourished Version of You
I help women find lasting wellbeing, a sense of purpose, and renewed hope that life can be filled with joy and ease no matter what it throws your way.
Yoga Therapy for a More Nourished Version of You
I help women find lasting wellbeing, a sense of purpose, and renewed hope that life can be filled with joy and ease no matter what it throws your way.
Get More Clarity
Allow a sense of purpose to drive your daily life.
Discover Peace
Feel more balanced and calm every day.
Create Lasting Wellbeing
Regular movement & rest to support your body and mind through aging.
Life doesn't have to feel so damn hard.
You deserve a life that nourishes you just as much as you nourish others.
I believe that our physical bodies tell us so much about what's going on inside our hearts. If you're feeling exhausted, are experiencing health issues, stiffness in your body, or just feel like something is missing, I am here to tell you that your body has a message for you and it's time to listen. Yoga therapy can help you nourish your physical body and your mind and spirit, allowing you to continue handling all of the things you're used to doing.
Individual Session
Work with me 1:1 for the ultimate transformation over 12 weeks.
Online Programs
Dive in at your own pace or join me two times per year to discover your radiant wellbeing and immerse yourself in iRest yoga nidra.
Home Practice
Download my app to practice with me at home.
Does any of this sound familiar?
Are you spending all of your energy caring for everyone else?
Do you put yourself last on the list?
Are you experiencing pain in your body or chronic illness?
Do you feel exhausted and burnt out and not sure what to do?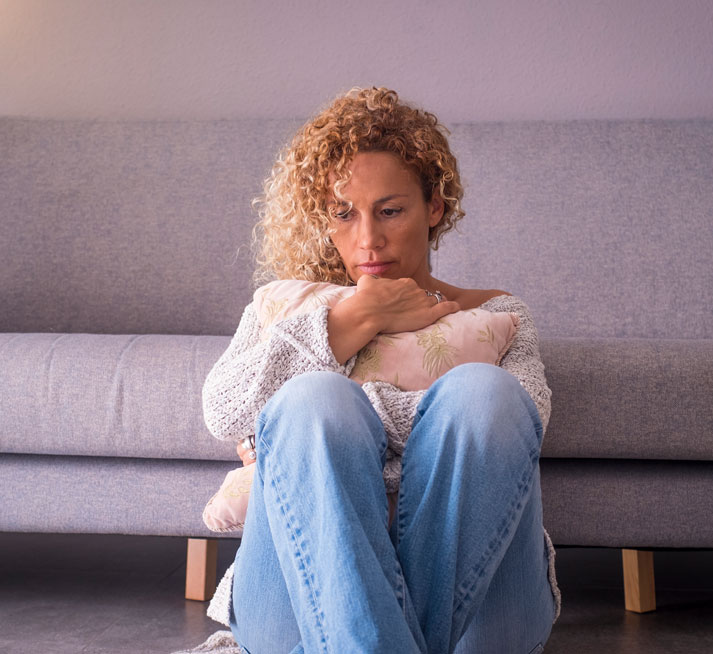 I get it, life can feel challenging without the right nourishment and support.
I know what it's like to be in a body that works differently than it did years ago. Or caring for a parent or a spouse while raising a family and wondering how to juggle it all.
My yoga practice has taught me that whatever life throws at you, you can react from a centered, grounded place when you have the right tools to support you.
About Gabrielle
I have been teaching yoga since 2002 and my passion is sharing the joy and benefits of yoga with others. The yoga I teach is of a creative nature, using themes and imagery with smooth transitions between postures. The practices are gentle and nurturing, with options and modifications so everyone can participate. You are encouraged to move your body in a way that is pain free and in a comfortable range of movement. Many students practice much of the class with their eyes closed (a moving Meditation) where your body, breath and awareness are moving as one – this is union, this is yoga.
As an IAYT certified yoga therapist, senior yoga teacher and iRest Yoga Nidra meditation certified teacher, I bring a wealth of knowledge and experience to all group and individual sessions.
Yoga has been my rock; through the illness and death of my father, navigating teenage boys and the emotional roller coaster of my menopause at 43. Yoga is my constant companion, my source of strength, my voice of inner wisdom and guidance.
Through practice, I find of clarity , stillness, patience and peace.
What my clients are saying . . .
"I wanted to let you know how deeply I'm enjoying your yoga classes. You provide a wonderful balance between containment and space, guidance and silence, and movement and stillness. I've also never been able to so readily connect to the difference between purusa and prakritti as when you guide us into this exploration."
Natalie H, Yoga Therapist, Yoga Teacher, Psychologist
"Thank YOU so much for the retreat. I feel refreshed and full of energy"!
Vanessa, editor, designer, writer

"Just sitting at Brisbane airport reflecting in what a beautiful week I have had. Thank you for the care, energy and thoughtfulness that you out into both the planning and preparation of the retreat as well as your wonderful teaching". I feel like I am in a little bubble just about to enter back into the "hurly burly" of my everyday world. Will try hard to remember some of your teachings from this week to preserve my sense of peace"?
Sue

"Thanks again for a fantastic and transforming week; I learned a lot. Thank you for sharing your knowledge and passion with us. Hope to see you at Bhava soon."
Nicole

"I feel wonderful since the yoga retreat; I've been practising my meditation daily and loving it. The retreat has been a truly positive experience for me. It's the best gift I've given myself, a whole week to just be – Bliss"!
Vanda

"May the spirit of the weekend burn bright for a long time. What a euphoric weekend."
Helen, yoga teacher, personal trainer

"Radiant wellbeing is a terrific program! Gabrielle is an experienced and wise teacher. The program is easy to use, there is a wide variety of thoughtful and very effective yoga practices which are easy to follow. I especially liked the flexibility of being able to use the program to suit my needs. When I was time poor, there was still plenty to choose from. And it is true: a little yoga practice everyday, or most days, really does make a difference to your quality of life. The program is a great gift to give yourself."
Tiziana. Warrandyte Victoria.

"What I love about Gabrielle's teachings is that she clearly explains why these practices are so nourishing and beneficial for our minds and bodies, even when only practiced for a short period of time. It is a treasure chest that I feel drawn to dipping into every day."
Sally

Your 3-Step Plan to Success
Book a Call
Schedule a time to chat and we'll discuss your needs and goals, and match you with the right program for you.
Create a Plan
We'll work together in our group program based on yoga therapy.
Live a Life of Nourishment
You'll have the tools you need to nourish yourself on a daily basis and handle what life brings your way.
Finally feel nourished and whole (because you are)
You deserve to be cared for as much as you care for everyone else. It's time you have the tools to support you.