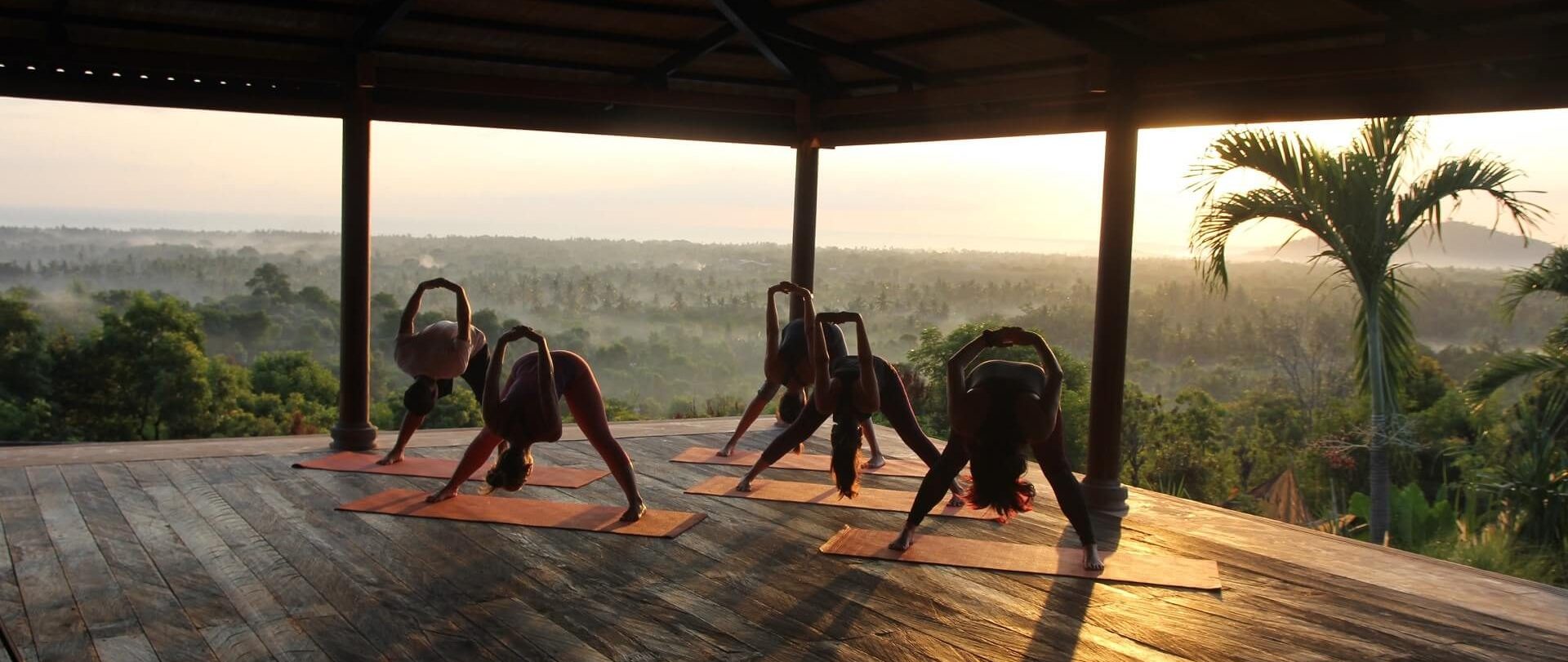 Bali Yoga Retreat, 31 May – 7 June 2024
Nestled between the jungle, mountains and sea.
Escape to Paradise: Join Us for an Unforgettable Yoga Retreat in North West Bali! 
Embrace Serenity and Nature
Are you ready to embark on a rejuvenating journey to Bali's hidden gem? We invite you to join us on retreat at the enchanting Sumberkima Hill, nestled between the lush jungle, majestic mountains, and breathtaking sea in north west Bali. Step into a world where tranquility meets authenticity, and nature's embrace awaits you.
A Slice of Authentic Bali 
In this serene corner of Bali, the essence of traditional culture and unspoiled nature come together harmoniously. Here, amidst untouched beauty, you'll find a rare opportunity to retreat from the hustle and bustle of everyday life and rediscover the true meaning of inner peace.
Your Home Away from Home 
Thoughtfully designed villas embrace the essence of Balinese homes, where comfort, inspiration, and harmony with nature intertwine seamlessly. Each villa offering a unique charm and picturesque views.
Your Journey to Bliss
Join us for an 8 day/7 night retreat of a lifetime, where every detail is taken care of. Your all-inclusive package includes nourishing yoga sessions, comfortable accommodation, mouthwatering meals, and transfers to and from Denpasar airport. Our itinerary also includes visits to local temples, where you can soak in the spiritual ambiance, and an unforgettable snorkeling adventure to Menjangan island, where the wonders of the underwater world await you.
Dive into the Magic
Unveil the underwater marvels as you snorkel in the crystal-clear waters of Menjangan island. Swim alongside vibrant marine life and vibrant coral reefs, leaving you in awe of nature's artistic wonders. It's an experience that will leave an everlasting imprint on your heart.
Reserve Your Spot Today! 
Don't miss the chance to be part of this incredible yoga retreat in north west Bali. Spaces are limited, so secure your spot today and embrace the serenity that awaits you. Winter will be the perfect time to embark on this life-changing journey, as the island basks in its natural splendor.
For more information and reservations, reach out to us at gabrielle@yogawithgabrielle.com.au. I can't wait to welcome you to this deeply nourishing experience at Sumberkima Hill, Bali!
Reconnect with Nature. Rediscover Yourself. Join Us in Bali! 
Pricing
The retreat runs for 8 days/7 nights and the price includes all yoga sessions, accommodation, meals and transfers to and from the Denpasar airport. Visit to local temples and a snorkelling trip to Menjangan island is also included. 
$2,380 – $2,780 per person
Select your accommodation from the options below.
NOTE: Prices shown are 50% of the total retreat package with Balance due by 15 March 2024.
All villas have 3 bedrooms with shared living spaces and a private pool.  50% of the total retreat price is required to reserve your booking with the balance due by 15 March 2024.
NOTE: Refunds are NOT available unless the retreat is cancelled by the facilitator (Gabrielle Boswell). 
Villa Gajah is a surreal oasis of tranquility in the midst of frangipani trees and a vibrant hillscape. Expansive and palatial, the villa represents the mystique of the forest as well as the gentle charm of the tusker herds. Complete with open air bathrooms as well as a private pool, we are sure your stay here will be a memorable one.
Villa Naga is a grand, 3 bedroom palace overlooking the volcanoes of Java and the Barat National Park. The infinity pool comes with loungers that make for the best sunset spots. There is a large veranda below the villa with a swing bed.
Villa Barong is a magnificent amalgamation of nature and rustic architecture. Enjoy gazing at the stars from the garden or relaxing in the open lounge or rooftop gazebo. Combining modern luxuries with traditional architecture, Villa Barong is an aesthetic wonder.
Villa Bidadari  is a slice of heaven. Enjoy gazing at the stars from the garden or relaxing in the open lounge or rooftop gazebo. With a gazebo on its rooftop, it is the perfect place to enjoy the soft sunrise view. The expansive, private pool overlooks the Bali Sea and the nearby valley so that every dip in the water is an experience that brings you closer to nature.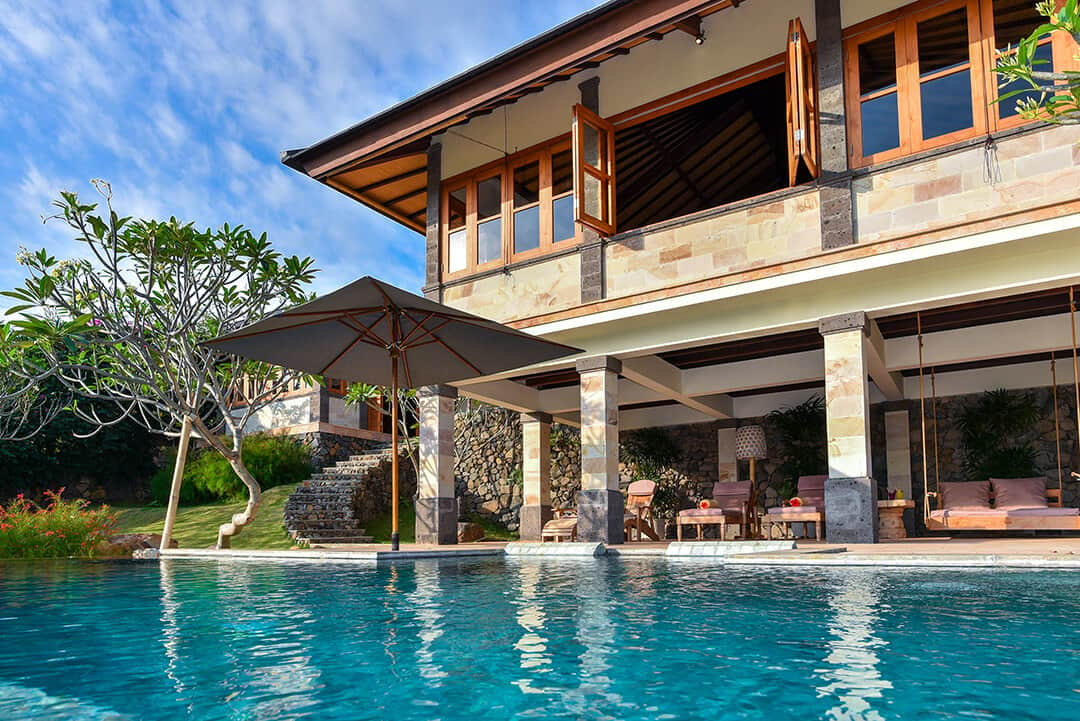 What my clients are saying . . .
"I wanted to let you know how deeply I'm enjoying your yoga classes. You provide a wonderful balance between containment and space, guidance and silence, and movement and stillness. I've also never been able to so readily connect to the difference between purusa and prakritti as when you guide us into this exploration."
Natalie H, Yoga Therapist, Yoga Teacher, Psychologist
"Thank YOU so much for the retreat. I feel refreshed and full of energy"!
Vanessa, editor, designer, writer

"Just sitting at Brisbane airport reflecting in what a beautiful week I have had. Thank you for the care, energy and thoughtfulness that you out into both the planning and preparation of the retreat as well as your wonderful teaching". I feel like I am in a little bubble just about to enter back into the "hurly burly" of my everyday world. Will try hard to remember some of your teachings from this week to preserve my sense of peace"?
Sue

"Thanks again for a fantastic and transforming week; I learned a lot. Thank you for sharing your knowledge and passion with us. Hope to see you at Bhava soon."
Nicole

"I feel wonderful since the yoga retreat; I've been practising my meditation daily and loving it. The retreat has been a truly positive experience for me. It's the best gift I've given myself, a whole week to just be – Bliss"!
Vanda

"May the spirit of the weekend burn bright for a long time. What a euphoric weekend."
Helen, yoga teacher, personal trainer

"Radiant wellbeing is a terrific program! Gabrielle is an experienced and wise teacher. The program is easy to use, there is a wide variety of thoughtful and very effective yoga practices which are easy to follow. I especially liked the flexibility of being able to use the program to suit my needs. When I was time poor, there was still plenty to choose from. And it is true: a little yoga practice everyday, or most days, really does make a difference to your quality of life. The program is a great gift to give yourself."
Tiziana. Warrandyte Victoria.

"What I love about Gabrielle's teachings is that she clearly explains why these practices are so nourishing and beneficial for our minds and bodies, even when only practiced for a short period of time. It is a treasure chest that I feel drawn to dipping into every day."
Sally